Incremental measurement
An incremental encoder defines relative positions— differences between two points in a rotation trajectory—and requires a reference point to be set.
Output type
Since the encoder measurement system can be incremental or absolute, there is a conceptual difference between produced outputs as well. Two common output types are a data word to designate an absolute position and an incremental pulse to let users know a relative position.
An absolute position encoder basically works the following way: for each position of the shaft, there is a corresponding unique code. For this purpose, the rotating disc of the device includes a sophisticated slotted pattern.
In absolute encoders, major coded wheel patterns are the binary format or Grey code. The binary format is associated with inaccuracies that occur frequently at high-velocity measurements. As a result, the Grey code is the preferred pattern for a wider speed range.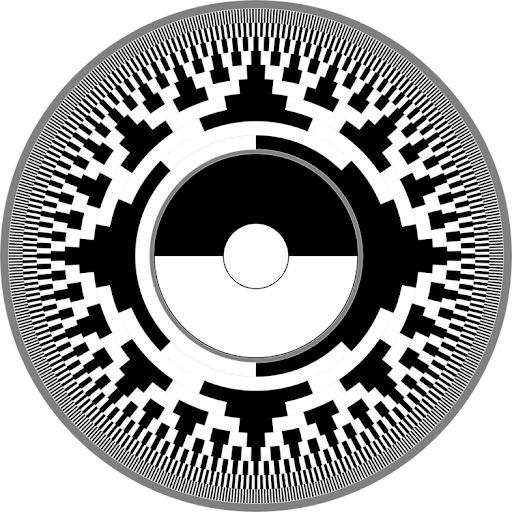 Incremental pulses
In incremental encoders, series pulses are counted. From the two output signal streams of the transducer, it is possible to infer the extent of displacement (the pulse quantity) and movement direction (which pulse flow takes the lead). When a third signal stream is available, it enables setting a reference for pulse counting.
Encoder sensing method
Sensing inside an encoder—i.e., reading the codes or pulses from the coded disk—can either be contact or non-contact. This division defines whether a mechanical contact is needed to track position, or tracking relies on non-contact physical effects.
Contact
Contact reading is based on a contact between a coded disc and a sensor pin, or a brush, or another fixture. A coded disc has a series of tracks (or rings). When the disc is rotating, the sensors contact the tracks, producing signals.
There are significant downsides of the contact sensing method making it less attractive for users. The most hard-hitting ones are segmenting restraints and contact wear.
Non-contact
Non-contact encoders employ a particular physical phenomena to read a coded disc without contact. The main advantage of the non-contact method is improved wear resistance. On the flip side, the method is rather expensive, sensitive to dirty environments, and demands a complex infrastructure.