p - 14 f -
i - 36
Inrunner Frameless Motors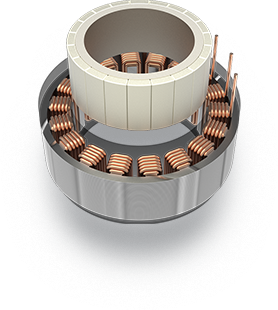 The IFM series have been developed to fit applications where size and weight are important factors. 
The motors come in an ultimately compact and efficient brushless design that provides high performance and increased lifespan. Models come in outer diameter from 41 to 75 mm. All models feature increased efficiency (> 90%), excellent heat transfer and high torque density.
Options to choose from include magnet and sensor types, winding types and more. Altogether this lets you choose the exact-fit motor for your system.
We are also ready to develop a custom solution based on our motors.
Models of Inrunner Frameless Motors
| Модель | Diameter, mm | Power, W | Rated torque, mNm | Peak torque, mNm | Rated speed , rpm | Length, mm | Weight, g |
| --- | --- | --- | --- | --- | --- | --- | --- |
| FMI501200 | 41 | 155 | 240 | 720 | 6000 | 21 | 90 |
| FMI601201 | 51 | 200 | 320 | 960 | 6000 | 21 | 130 |
| FMI701401 | 60 | 320 | 510 | 1530 | 6000 | 24 | 200 |
| FMI852001 | 75 | 550 | 880 | 2640 | 6000 | 31 | 470 |