About our company
Rozum Robotics is an ambitious innovative company that takes a fresh look on human-robot interaction and aims to make robots an everyday thing just like smartphones or office printers.
Founder and CEO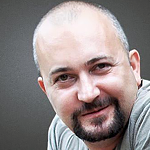 The startup was founded in 2015 by Viktar Khamianok who is acting as the company's CEO and is its inspiring leader.
Viktar's experience includes a successful software business with 10-year history, the maker of a software toolkit that is used by every 3rd internet marketer in the world.
We have Sales and R&D offices in East Europe (Belarus) and a Sales office in California, USA.
The goal
Rozum Robotics was founded with an ambitious goal to make robots a common-life thing, just like smartphones or office printers. With time, the idea transformed from democratizing robots through making them safe, compact and inexpensive to also making them democratic through using the most popular of modern technology, so that a robot becomes part of and continues any person's everyday experience.
That is how our robotic arm became the most lightweight and compact collaborative robot, and the first collaborative robot that can be operated from a smartwatch.
The team
We are a small and very ambitious team of engineers from different fields, designers, business development, sales and marketing specialists.
Our versatile team includes engineers with solid background in robotics, electrical control systems, mechanical engineering and software development. Some of us have 15+ year experience in international robotics and automation projects, others are only beginning their career and make fantastic progress while bringing in fresh look.
The well-balanced software team has the brightest young talent in programming, winners of international robot programming competitions, as well as software development experts with 20+ year background in different technologies.
Company history
Viktar Khamianok founded Rozum Robotics in April, 2015 and started an R&D project in robotics together with his talented friend engineer Siarhei Charomukhin who later became the company's CTO.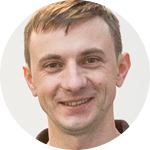 After a year of research and experiments, Viktar and Siarhei formulated the goal of building a better collaborative robot than what is already available to the market.
It soon became clear that servo motors are a problem: none of the available solutions would fit Rozum's needs performance-wise, efficiency-wise, size-wise etc. Besides it is more cost effective to build custom motors in-house. So RDrive servo motors were developed and built in late 2016 by Rozum Robotics team (which has grown by then).
Today, RDrive servos are used in our robotic arm PULSE, and can also be purchased as a separate product.
We didn't expand our team much since then, as we wished to avoid any management issues at early stage. Instead, we focused on finishing the robot in a compact, exceptionally bright and efficient team.
In the summer of 2017, Rozum Robotics counts 10 people, and this team managed to build PULSE within just a year!
In early 2017 we built the first prototype of collaborative robot PULSE, which is the most lightweight and slim, and thus the most mobile and compact robotic arm among collaborative robots carrying 2-5 kg payload.
In Spring 2017, PULSE DESK was built as the software infrastructure for managing PULSE cobots from any device and from any place on Earth.
In April 2017 PULSE traveled for the first time and got fantastic feedback at Hannover Messe, RoboBusiness Expo in the Hague and numerous automation exhibitions in Moscow and Minsk. We got back to work even more inspired to refine our product and start sales in Q4 2017.
We will keep improving PULSE, and will write about our progress in the News section. If you wish to be notified when the sales start, please drop us a short message at sales@rozum.com